EQUIPMENT : Cummins Power Generation
Cummins Power Generation is a global provider of power generation systems, components and services in standby power, distributed power generation, as well as auxiliary power in mobile applications to meet the needs of a diversified customer base. Cummins Power Generation also provides a full range of services and solutions, including long-term operation and maintenance contracts and turnkey and temporary power solutions.
Our Products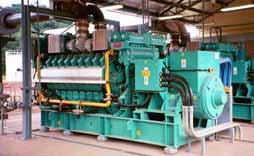 Cummins Power Generation products include diesel and alternative-fueled electrical generator sets form 2.5 to 2,700 kW, alternators from 0.6 KVA to 30,000 KVA, transfer switches from 40 amps to 3,000 amps, paralleling switchgear and generator set controls
Cummins Power Generation designs and builds Generating Sets using components (engine, alternator and control panel) from companies belonging to the Cummins Group. This allows to obtain products of high reliability through the optimization of the characteristics of all the components.
Cummins manufactures a wide range of generators driven by diesel engine and gas from 8 to 3,300 kVA at 50 and 60 Hz